Auron A High Potency Iron Tonic for Animal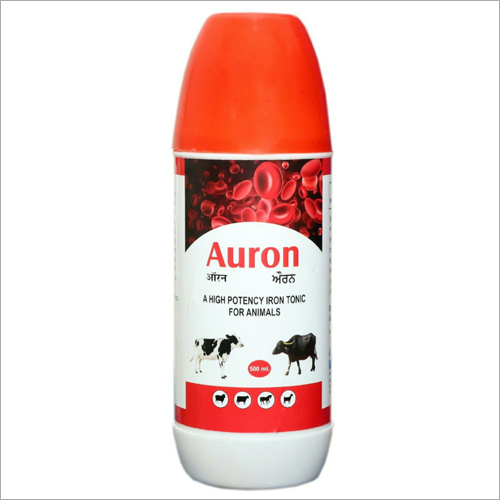 Auron A High Potency Iron Tonic for Animal
Product Description
COMPOSTITION :
Each 10 ml. Contains :
Ferric Ammonium Citrate: 400 mg.
Copper Gluconate: 50 mg.
Cobalt Chloride: 16 mg.
Vitamin D3: 1500 1.U.
Folic Acid: 500 mcg.
Cyanocobalamin: 15 meg.
Zinc Sulphate: 40 mg.
Pottassium lodide: 15 mg.
Silenium Dioxide: 100 mcg.
In a flavoured vehicle base: q.s.
ADVANTAGES :
Supportive therapy in maintaining the energy levels in lactating diseased and recuperating animals.
Better absorbed then many other irons, Improves pre and post calving animal health.
Enhances body resistance and immunity power thus ensure good health for cattle.
Ensures optimum growth and conversions of nutrition for general fitness.
DOSAGE :
Daily with drinking water :
Cattle and Horse : 30-50 ml.
Sheep and Goat : 10-15 ml.
Dog and Cat : 5 ml. or as directed by the veterinarian
Packing : 1 Ltr.
Contact Us
Bno 00, Shivpuram, Moja Rahimpur, Near Sarwagia School, Roorkee, Uttarakhand, 247667, India
Phone :09105995565